First Working Day. What To Do?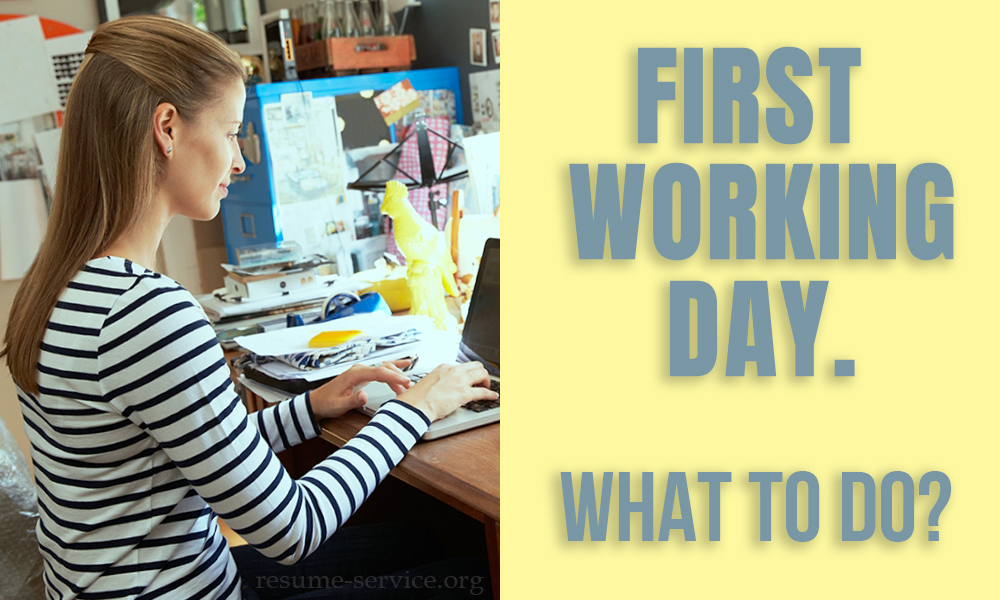 Everyone sooner or later needs to survive the first day at work. And even if you have already changed jobs many times (http://resume-service.org/blog/5-signs-that-it-is-time-to-change-your-job), I am sure that the first day is always the most difficult for everyone. So, behind were tedious job searches, several stages of interviews and you finally achieved your goal. Now you have a meeting with a new team, a lot of new duties, a new boss and the most important thing is to make the right first impression! And because of the experiences, it can be very, very difficult. We know that the cause of stress on the first working day is precisely the inability of the employee to behave correctly, ignorance of the basic rules. In this post professional resume writer will tell you about the things that should be done immediately, as soon as you take a new job. Yes, stress can not be avoided, but pull yourself together and direct all your energy in the right direction.
It happens that with the arrival of a new employee, he is not immediately perceived and he feels the negative attitude of the whole team. There are many reasons for this: somebody might want his relative to take this place, someone has dissolved gossip that the employee was hired through connections, someone will see in the newcomer an obstacle to his career growth. In such cases, terrible psychological pressure is guaranteed. But if you are in this situation, do not panic and do not quit right away. Over time, everything will subside and your professionalism and friendliness will win this war.
For many years now our perfect resume proofreading online service has been engaged in the successful writing of CVs and cover letters. We are professionals in our business and offer you help. If you want to receive an invitation for an interview in the company of your dreams, then the correctly compiled resume is the first key to success.
Also in this section:
19 rules for a new employee
1) Save a few ready-made questions and do not hesitate to ask them. Generally it is considered that on the first working day you need to listen more and talk less. But still, you will have a chance to ask a few questions about the work of the company that interests you the most. Write them down and just wait for the right moment. Most likely it will be a meeting with the boss. Your questions should be directed to ensure that you can be successful in your position. Check that you have contacts of an HR manager who is able to solve basic problems.
2) Be ready to tell a little about yourself. It can be a short story for half a minute about who you are and where you came from, where you worked before, and so on. You may be asked about your responsibilities, do not be surprised, because if a company is large, many may not be interested in each other's duties. And if in a small company you hear a similar question from the employees, it's just an excuse to start a conversation with you. As a rule, in small teams the boss will personally present the new employee to the rest. And in large enterprises, it can take weeks until you see everyone.
3) Relax well before the first working day. Spend the last day off in peace and do what you love. Good mood in the morning is the foundation of a successful day. On the eve of the first working day go to bed early and prepare all the necessary clothes beforehand. It is better if you come to work in a good mood, with a positive attitude and confidence in your abilities. Do not show your feelings and fears. Everyone passes through acquaintance with the new collective. The time of adaptation must be simply experienced, and then everything will be much easier.
4) Come to the office early. But I do not mean that half an hour before the agreed time. Such an early appearance is more likely to alert than to indicate your good upbringing. Especially since you run the risk of finding an empty office. Usually employees come on time. The best option for you is to come for 10-15 minutes before the start of the working day. You will have time to get acquainted with the workplace and some employees. Be sure to consider all the features of travel to a new job. Even before you go to work, try to get there at rush hour and fix the time, so that later there were no surprises, nerves and frenzied rush. This cheap resume writing service online is one of the best.
5) Immediately study the situation. If you are observant from the first minutes of work in a new team, you can quickly figure out who is who. The ability to easily communicate along with people is the key to success, but it is important to learn how to build good relationships with the right people at once. There is not even the smallest collective without such people who are in a special relationship with the boss, not in such as most employees. You need just these people if you are going to quickly move up the career ladder.
6) Smile and smile again. Only it should be a sincere and pleasant smile, not the smirk of a self-satisfied man. Remember how many difficulties you had to experience before you found this job, how many interviews you went through. And here you are in your workplace, so enjoy every moment and finally breathe a sigh of relief. You are here, because you are the best and there is no doubt - you will manage. Smile when you are introduced to colleagues, smile when you say hello to someone holding hands. Believe me, people will remember you if you immediately show your enthusiasm or sincere job satisfaction.
7) Do not be embarrassed and say hello to everyone. You do not need to blush and lower your head when you are presented to society. Yes, this is a slightly embarrassing moment but you can not allow you to be remembered as an extremely modest and shy worker. Feel free to say hello, hold hands and you can introduce yourself to the team. Be friendly and people will love you.
8) Do not overdo it. Many people understand that you need to make a good impression at once, so beginners can behave too much. But it's not right. You already got a job so do not need to surprise others with your super abilities. Do not demonstrate your skills and knowledge if there is no reason. Believe me, your abilities and skills will be appreciated by colleagues over time, and not immediately. Behave in a natural way. It will only be easier for you, and on others you will make the impression of a simple and open person.
9) Do not give up a collective lunch. If it so happened that either a colleague or a boss invited you to lunch, then gladly agree. Thus, you will demonstrate your desire to join the collective and live with all together. Well, and you will save the lunch brought from home.
10) Listen, listen and listen again. In the early days do not rush to draw conclusions and formulate your own opinion about everything that is happening around. You need to learn how to listen carefully and remember any information. In this way, you will learn a lot about the goals of the manager and the team, as well as catch the scheme of the company's work, negotiation, approval of projects. Often the chatter of employees hides in it a lot of useful information, the main thing is to hear it in time.
11) Start playing your role immediately. Do not go around the office and build a clown of yourself, telling jokes to everyone around you. Go to your duties seriously and spend a lot of time choosing the appearance and clothes. The dress code needs to be followed otherwise the clothes or own style can simply push people away from you. Stick to classics is a win-win option.
12) Communicate with the staff from the first minute. Perhaps everybody will be curious or gazing you for the whole day. Yes, you will receive increased attention and you will be watched and evaluated by your actions. Just be prepared for this and act as if nothing is happening. Friendliness is a very good for everybody. Demonstrate it as quickly as possible and let your optimism be seen by everyone.
13) Study your responsibilities carefully. On the first working day, the head or department manager will quickly introduce you to the course of the case and get acquainted with the list of duties. Do not be surprised if you have to do things that you were not warned about. Normal react to this and try not to neglect your formal and informal duties. By the way, the sooner you find out the informal responsibilities - the better it will be for you.
Often unkind colleagues can take advantage of your ignorance of duties and load you with your own errands. And the newcomers are just happy to try to do everything. Do not be too helpful, clearly study your work (http://resume-service.org/blog/how-not-to-become-a-corporation-slave).
14) Put your mobile phone in silent mode. Let no one and nothing interfere you with the full immersion in the work. Your phone can be torn from calls and sms from friends and relatives who are also worried about your first working day. But if you answer all, then you can not concentrate and work productively. Leave your privacy for the evening.
15) Be interested in others. Do not turn into a small selfish person and only answer the questions yourself. When they get acquainted with you or seek help, then it is better to ask something in response. This is an elementary politeness and besides it can benefit you.
16) Watch the body language. Nonverbal communication plays an important role in our life. Sometimes the tongue speaks one thing, and movements tell us about something else. So watch the others and control your body language.
17) Address your colleagues by name. On the first day it will be very difficult, but necessary. So make an effort and a little workout for the memory. Remember the maximum number of employee' names. A person is much more pleasant if they address him by name.
18) Be yourself in all circumstances. It's much easier than portraying someone. If it's hard for you, just imagine that you are getting to know these people not in the office, but in an informal home environment. Who knows, in the near future you will be good friends and have fun outside of work?
19) Do not be too strict towards yourself. Do not get upset and never chastise yourself for the errors or missed opportunities for a long time. Trying to show yourself from the best side you just can be too nervous and feel tired. Do not bring yourself to an exhausted state, the work is not worth it. And God will give, tomorrow will be a new day, in which there are no mistakes.
20) Less emotion and more neutrality. Of course, you want everyone to like you , but it's impossible. And in the course of time you will be able to make yourself friends and enemies. This often happens in teams, so do not panic, do not be too emotional, and in all things hold on to neutral positions (http://resume-service.org/blog/cheerfulness-during-a-long-working-day-how-to-achieve).
I hope after reading this essay you will not be so worried about the first working day. Take advantage of our small tips and you will see that everything will be fine. We sincerely wish you the best position in one of the most prestigious companies and let on your way meet only friendly colleagues.
Popular Posts: