Cheap Resumes: Smart Choice At Reasonable Price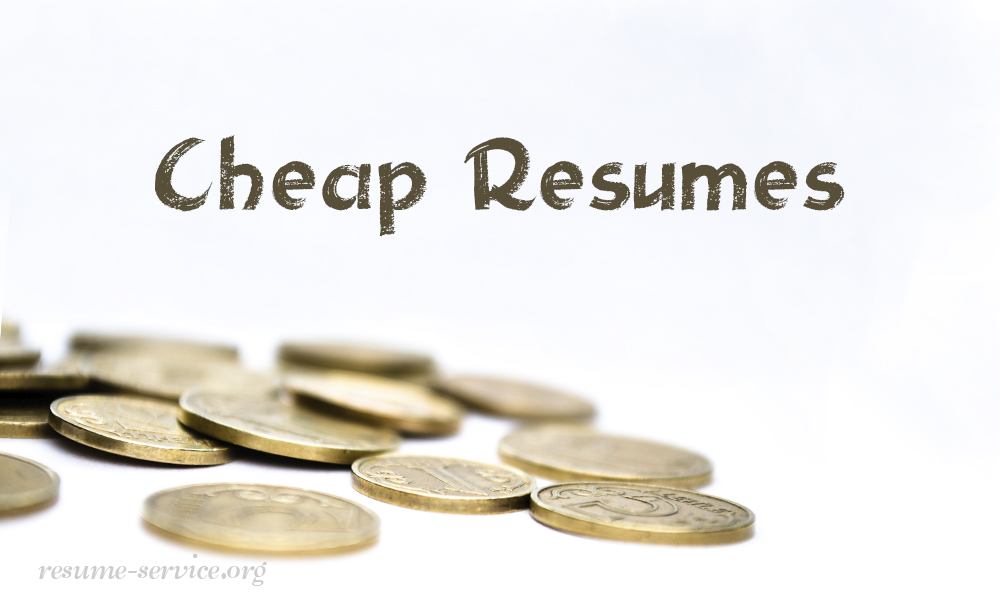 You can find hundreds of cheap resume writing services on the Internet. Unfortunately, not each of such cheap resume services can write really good resume and give you desirable result. At the same time cheap resume writers of our resume service can guarantee you a competently written resume that will help you to find your dream job. And we are also going to give you some useful tips on resume creation that will make your resume more attractive and "expensive", i.e. such a resume that may double you future potential salary.
15 resume tips that will double your salary
Professional resume service online publishes tips how to make a resume really great without any deception. We will give you advice of the professional HR experts, who have seen thousands of resume and know how to make resume more attractive.
1. Resume is not a ticket to an interview, it is a banknote
There is an opinion that resume is a ticket to an interview. Its main target is to get a call from an employer. This is the false opinion that has "ruined" many professionals. The main target of a resume is to show your true value as a professional. If you did not show your real "price" at the very beginning, it will be harder to do during the interview.
2. Think how to sold your resume
A resume should be composed so that a recruiter wants to "buy" it. Why recruiter? Because in 90% of cases recruiter will get first the resume. Resume for a recruiter is one of the main tools of his work, which can be compared with program interface. If recruiter does not like your resume interface, he has less desire to work with it.
3. Get the maximum number of points from a recruiter
Recruiters receive from 100 to 300 resume a day. He spends from 5 to 10 seconds to have a look at each resume. During this time he reads the main resume parts. Each resume passes inner scoring (counting of the points) from a recruiter. If resume gets enough points, recruiter starts working with it: he calls, invites for an interview, sends resume to employer and so on. Each part of resume may give you extra points or take those points you have already got.
4. Adapt resume to your profession
There is no universal resume for all professions. Each profession demands different kinds of resume. The task of each resume kind is to show what is the most important for the profession.
5. Show the recruiter your success
Resume is not a set of different blocks about job, education and trainings. Million dollar resume is a resume that is built on the success history. What is success history? This is such a kind of information presentation when it is clear how your education, career path, various trainings and certificates, personal qualities and position you are looking for are connected.
6. Take the example of the landing pages
You probably have seen on the Internet cool landing pages. Your resume should be no worse. A good resume is interesting to read, you want to read it till the end. Each phrase in resume increases the desire to buy it. It has very simple and clear navigation (structural parts). Besides, resume should meet the generally accepted standards. That is why if you are not a designer or a representative of any creative profession, there should be no pictures in your resume.
7. Use only business language
Recruiters pay much attention to the resume language. You should be especially careful if you write resume in a foreign language.
8. Follow the perfect structure
Many recruiters agree that among all the forms of information presentation in a resume, the following one is the most suitable:
1) Full name.
2) Photo.
3) Contacts (only telephone number and the city of your living; you should not write the home address, recruiter will not come to your house to check who lives there).
4) Target – the position you are applying for. Do not use such formulaic phrases as "I am looking for a company where I can realize my potential with maximum use as for the company, so as for me". Today no one take seriously such words.
5) Key competencies. This is the part for experienced specialists. Recruiter may not want to read the whole resume, but the key competencies he will definitely look through. Here you should mention your professional skills, knowledge, and achievements, and also add some personal qualities.
6) Education.
7) Trainings / courses.
8) Work experience (beginning with the last work place).
9) Additional information (languages, knowledge of the programs, driving license).
Format: Calibri or Arial font, size 10 or 12, no tables, single spacing between the lines. Previously font Times New Roman was commonly used. However, now recruiters advice to use Calibri or Arial.
The whole resume should have one single font. There can be exceptions for the headlines decoration ("Education", "Work Experience" and so on), which you can write with bigger by 2 points font.
10. Unite many workplaces into one
It is considered a norm, if a person works for 2-3 years in a company. If he changes workplace more often, he can be called "job hopper". Of course, everyone has a right for mistake, and a good resume may contain several places, where a candidate has worked for a year or so. But is the whole resume looks like that, its values is very low.
If it is possible, experts recommend to unite several jobs with the same name and the same dates of the work. Inside of this block you may show the change of positions, but do it in such a way, that there will not be feeling of frequent jobs change. This is a win-win option for those who are occupied with project work or have been transferred from company to company within the holding structure.
11. Keep the perfect resume size
Many HR experts agree that the perfect resume size is two pages, no more, no less. One page is acceptable for a beginner specialist, and three, four and so on pages are too much. In 80% of cases recruiters read only two first pages. So whatever you write on the third and the following pages, it may remain unnoticed.
12. Share your achievements
Achievements add your resume 50% of the price. Recruiter just physically can interview every candidates, who has sent resume. That is why the candidate who has written achievements and managed to make the recruiter interested always wins.
Achievements are your measurable success that is expressed in numbers, dates or significant qualitative changes in a company. The examples of the achievements: I increased TV sales by 30% in 3 months (store manager); Brought to the market a new product in 4 months, which helped to earn 800 thousand dollars in 6 months (Marketing Director); Reduced staff turnover from 25 to 18% by the work with the employees involvement (HR manager).
13. Tell about your personal qualities
Today more and more attention is paid to personal qualities of the employees. Analyzing what exactly will be evaluated during the interview, it probably will be like this: 40% of professional knowledge, 40% of personal qualities, 20% of motivation (the desire to do this very work in this very company).
Personal qualities, especially if they meet the vacancy requirements, are extremely important. If earlier it was enough just to list them, now you have to prove you really have them. Experts advise to write the qualities in such a way:
Initiative: developed and implemented the crisis exit strategy for the department, when the head had left.
Energy: my volume of sales for 2014 was 30% higher than the average for the department.
Stress-resistance: conducted successful negotiations with the client, who had already refused 7 managers, and signed a contract with him.
Here it is important to write not many qualities, but qualities with the examples. The examples are more important than the number of qualities.
14. Throw the job responsibilities and job instructions into a rubbish bin!
HR experts recommend to write duties, not the zones of responsibility, and describe them in form of action you have performed. Before starting to write this block, read a couple of resume to have an idea what to write about. Write the duties in order of their importance.
15. Sell the name of the position and the company
The names of positions and the companies is what a recruiter looks for in a resume first of all. According to these lines recruiter forms the initial price of resume, and only then start looking for the details.
The name of the vacancy should be generally accepted. For example, if you worked as marketing manager of a product, it would be logically to write "brand manager" in your resume. Everyone will understand what you have been occupied with, and the name "brand manager" is more selling than "marketing manager". If you were head of the department, do not forget to write in brackets how much subordinates you had. Mentioning about subordinates and their number always makes resume mire expensive.
The name of the company. If a company is not well-known, but cooperates with famous brands, you should definitely write about it. For example, "Autosuperleasing" (leasing partner of BMW, Mercedes-Benz, Audi, Honda). The names of the famous brands next to unknown company significantly increase the perception of the company. Also in brackets write the number of company employees. Under the name write briefly in 7-10 words what the company is engaged in. For example, the company is in top 5 companies in consumer finance sphere.
So it was 15 useful tips on resume writing, following which you can make your resume more "expensive" and consequently you may get well-paid job. Use the advice of our service and good luck in search of work!