Professional Writing Services: Choose Us For Best Result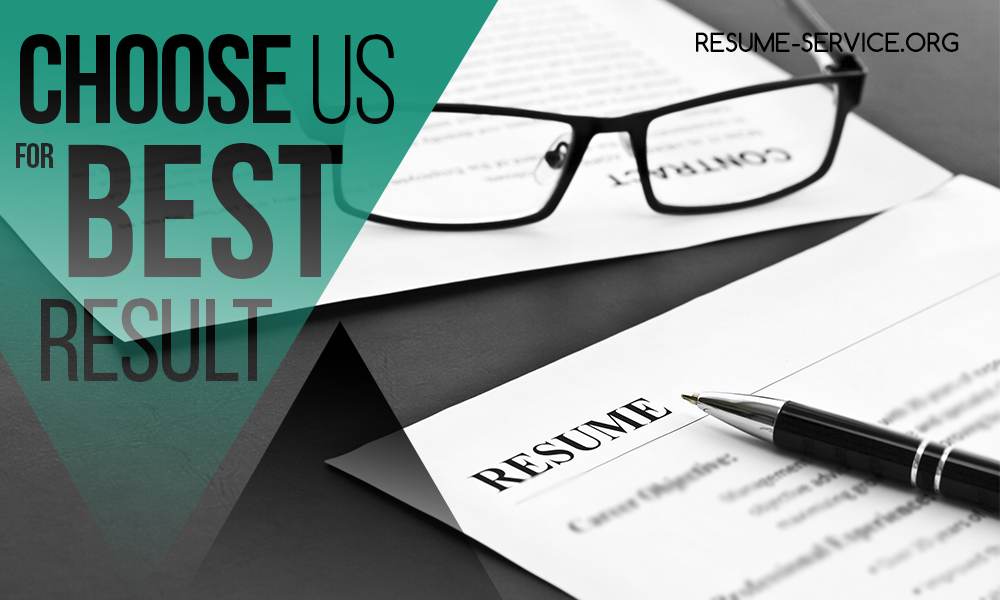 Professional resume writing service
Resume is your "professional reflection", your visiting card when meeting with an employer. We all have collection of business cards given by our colleagues, partners and clients, an they all look almost the same, though there are rare exceptions. And this can be explained with the fact that it is hard to create really unusual and informative visiting card: it should be bright, individual, reflect your status and of course provoke the desire to call the telephone number, all at the same time.
The same works for resume. It should differ from other CV, but should not go beyond business style; it should be informative, reflect all the professional work experience, but not extend on several pages. And, of course, it should emphasize your strong sides and veil the weak ones.
The task is difficult but not for our experts.
Our resume service is among top professional resume writing services. Our experts will help you to write professional resume, which will allow you to look at your experience from other side. And of course, when you have competently written resume, it will increase your activity in the job market. With the help of your resume updating, you will get more offers from employers and as a result you will find decent job.
Our experts before writing resume will specify all the details and nuances of your career development to reflect your skills and knowledge as much precisely as possible and to make correct accents.
Correctly built resume will profitably emphasize your professional individuality. And as a consequence you will be much closer to your goal – the getting of decent and suitable for you job. Be the best and let us help you to achieve your goal!
Resume correction
Before order the service we ask you to send us your resume, if you have already written it, so that we could evaluate it and decide what changes should be done.
You have created resume by yourself, taking into consideration all the modern demands and rules of resume writing. However, the result makes you doubt. It seems that resume is not what you want, that something misses in it or, vise versa, it contains to much excess information.
Do you have doubts about the competitiveness of your resume or you are not satisfied with the number of invitations for an interview? Do you believe that it is possible to improve the resume to make it work more effectively?
In this case you need to use our service "resume correction". Our specialists will carry out an expert assessment of your resume, select the merits of your professional working experience and make your weak sides not that obvious, so your potential future employer will not concentrate attention on them. They will also add necessary information to make your resume look competent and original.
You will get improved resume, in which all the necessary changes will be made. Due to this correction your resume will get professional look and will present your professional experience as well as possible.
Such a resume will definitely increase the job search effectiveness. You will start getting at least twice more invitations for an interview and, by the way, you will be able to qualify for several vacancies at once. We will help you to save your time and efforts. Professionally written resume will increase the number of responses from employers and HR managers.
You will save your time and efforts having trusted us the creation of your resume.
You will get the best result due to individual approach to each client and professionalism of our experts.
Cover letter
Cover letter is an important addition to resume. In the process of job search employees usually do not pay enough attention to it. However, you should remember about the advantages of such a document, because competently and convincingly written letter increases your chances to attract attention to your resume and to be invited for an interview. More information on cover letter writing you can get on our website.
We believe that in personal professional brand name creation it is very important to take into consideration the requirements of modern business ethics. It means that it is necessary to have covering letter in your disposition. Certainly, resume and covering letter should be written in the same style.
The purpose of a cover letter is to attract the attention to your resume and to show the maximum compliance of your job experience with the vacancy requirements.
Cover letter should not repeat information mentioned in your resume. During resume writing it is effective to orient yourself towards the certain company and / or vacancy. It will be a signal to an employer that you are interested in job in this very company and you have professional aims.
The result of our work will be competently written cover letter that will help to make an employer interested and attract his attention to your resume. And, of course, cover letter of high level will profitably distinguish you from the competitors in job search process.
Why do you need this? An individual consultation of our experts
An individual HR expert consultation is a great opportunity to get answers to your questions and to solve complex situations, which at different career stages appear at professionals, as well as at beginner specialists.
If you are a graduate of the University, you can be interested in aspects connected with the choice of business sphere, resume preparing, correct presentation on interview, desirable compensation and corporate culture of a company.
If you are a professional who has already achieved certain results, in this case you may have questions about job search, building of "internal" and "external" career, optimization of resume and cover letters, holding of negotiations in different situations, possibilities to realize yourself in other sphere, skills development, additional education obtaining and so on.
If you are a business owner, you can be interested in transition to the team hired managers. If you are a top manager of a company, you may probably want to get answers to the questions about professional development, such as business profile change, additional projects management, optimization of personal and professional resources.
Our experts are ready to consult you on all the questions in the field of career building and development. We follow nonstandard and effective solutions aimed at results obtaining. Our service consultants find individual approach to each customer. We offer unique services in every single case. We give recommendations taking into consideration your professional experience and skills.
Using our service you will get positive results very quickly. You will help you to get answers to your questions, find solutions for difficult working situation and choose the right way for the further professional development!
Professional help in resume writing
Quality resume is one of the most effective means of job search. The main aim of resume creation is to make an employer show interest and send you invitation for a personal interview. Your only chance to get a job with the help of resume is the moment when it is read for the first time. If you failed to attract attention, your resume did not work. So what information should resume contain to be qualitative and attractive? Partially we have already answered this question. For more details contact our team. Our specialists will help you to write effective resume that will attract potential employer, will give you priceless recommendations how to emphasize all your advantages in a correct way.
We do not offer to pass the way of job search instead of you. We offer you to pass it together, carefully avoiding the rocks, underwater currents and numerous obstacles and choosing the way suitable for quick promotion towards your goal – effective employment! Just trust us!
The best criterion of your resume quality is the fact that you, having read it, will have desire to hire this person to work. Having made such a conclusion, boldly send your resume to the recruitment agencies, together with a covering letter.