How To Write An Attractive Cover Letter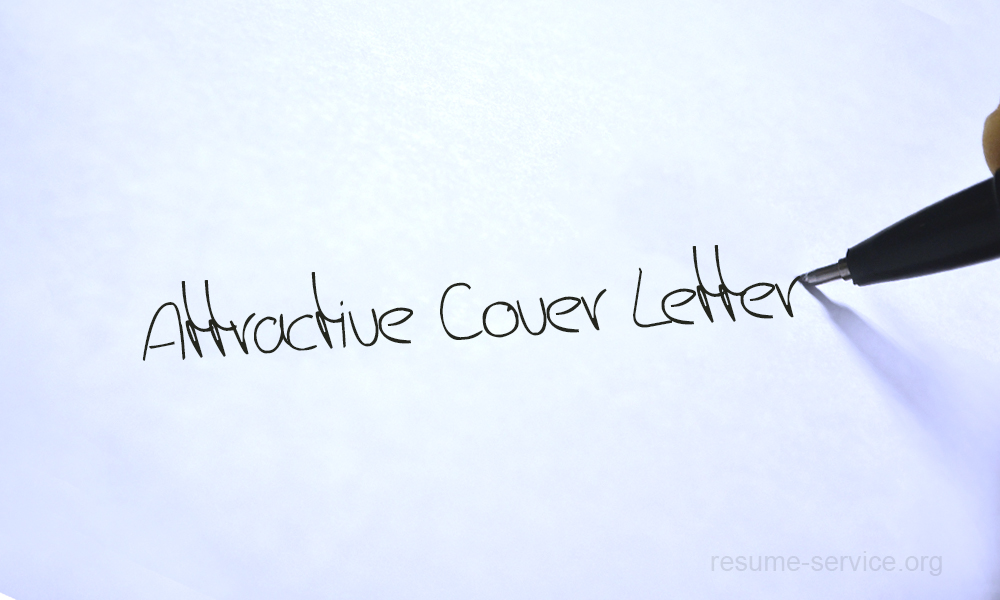 How to attract attention with the help of cover letter
Do you want to get a good job but competition for the vacancy is too high? Do not you know how to stand out among numerous competitors effectively? The answer is quite simple: write a cover letter or use our cover letter writing service.
There are so many posts on cover letter writing already created, this issue is much discussed. However, as practice shows, many jobseekers either do not use this useful tool at all, or use it incorrectly harming themselves. Our online resume service has made an attempt to figure out to how direct the power of a cover letter into the right way, and now we are going to present you the results of our work. The answers on the most common questions about cover letter creation will help to write such a letter that will benefit you, not harm.
Why do employers ask to send a cover letter?
Cases when an employer asks except resume to send a cover letter are dictated by his desire to find among the flow of resume the candidates with high motivation to the certain job, who are able "to sell" their candidacy. Additionally, it allows to evaluate the presence of the following qualities in candidates:
business writing skills, the ability to express ideas succinctly and closely to the point, ability to introspection;
language skills level (especially in the cases when a cover letter and resume should be written in foreign language);
ability to present information creatively.
Does a perfect cover letter exist and does it look like?
According to HR experts there is no such a letter form that would suit all the companies all the time. However, there are some important rules that candidates should take into consideration if they want to show themselves in the best light.
1. First of all, cover letter should be individual. It is very useful to make a request to a specific person if you know the name. Usually on the employment sites it is mentioned the name of a person who publishes a vacancy. Also you can try to call the company and ask who supervises the vacancy and probably you will manage to discuss in advance the requirements for the vacancy with the worker to make your cover letter even more address.
2. An introduction part should be convincing: you should choose those "magic words" that will make the recipient read your letter till the end and, the most important, it will encourage him to meet you. Generally saying, the target of a cover letter is to be invited for an interview, at which you will present yourself to potential employer as well as possible.
3. The letter should be brief, capacious and structural. Information should be given in blocks separated with paragraphs, otherwise the text will merge into a single unit, which is hard to comprehend and remember the key points.
It is boring to read big texts of letters. In such cases a recruiter usually reads the beginning, one or two paragraphs and then he loses his patience, opens the candidate's resume to understand whether it is worth to spend time on the candidate.
4. If you apply for a certain vacancy, in the letter you should emphasize your competitive advantages as a candidate for the mentioned vacancy. For example:
If you have deeper knowledge of the subject than it is required in the vacancy, emphasize this fact, if you have bigger experience, mention this as well.
If you do not meet some certain requirement by 100%, but you have other competitive advantages, it is worth to emphasize these advantages and encourage the recruiter to meet you personally.
If the vacancy requires the candidates to have certain skills, write the skills you have and give the examples where you successfully have used these skills.
Mention one or two your personal achievements at the previous workplaces, something that allowed your former employer to earn or to save much money with your help. It may be useful and at the new working place, who knows!
5. Look at the letter as if you were an employer. If it is about the vacancy that does not require much work experience, but capable and motivated person, demonstrate that you have the demanded qualities:
give examples when your skills helped you to get better results;
mention certain information that you have learnt about the employer and the company from open sources (the site of the company, mass media);
make a statement that it is your dream to work at this very company, in this team of professionals and under the guidance of an authoritative head.
6. Summarizing, write about your readiness to meet personally at a convenient for the employer time, and you are looking forward to the feedback.
What is strictly forbidden to write in a cover letter?
Remember that everything said may be used against you. Information excess is as much harmful as its lack, that is why:
Do not repeat banal things as, for example, what you have already mentioned in your resume.
Do not mention ahead of time your expectations for salary – this issue should be discussed later at the final stage of the interview.
Never scold your former employers. This applies both to the letter and the possible future interview. In general try to use more positive in your communication, because such interlocutors seem more attractive.
Do not give in advance the names and contacts of your recommenders, you will be asked to do it later.
Do not use any jokes or irony about something in your letter. You can be misunderstood.
Observe the measure in praising your benefits and do not cross this slight line where "vanity" starts. Ambitions are good for career, but splurge irritates.
Do not write in details your preferences in a form "I like / I do not like". Cover letter is not a profile on a dating site.
Avoid patterns. Such letters are often sent to a company and they do not demonstrate individuality and sincerity. As a rule, letters-templates do not give information at all, except for "Here I am and here is my resume". You can take a template and change it making it more individual.
Before sending the letter, read it several times, check the spelling.
Is cover letter the only opportunity to attract attention to your candidacy?
Recruiters say that cases when the candidates are too much persistent and even hard-bitten in their attempts to attract the attention of employer are very unpleasant. If you send your resume with the cover letter for the fifth time, then you can be sure that your candidacy has been considered and either rejected, or your resume has been put aside for the future, when suitable vacancies will appear.
What to do in this case? In this situation the best strategy is to establish personal contact with the responsible worker and try to make him like you. Thus you will give yourself an opportunity for the future to communicate, for example, in social networks to be memorized and distinguished among other candidates. Here the rule "be at the right time in the right place" works. So "prepare the ground" for it in advance.
Should you send a cover letter if it does not mention in the vacancy requirements?
It is up to you. You should understand that cover letter give to a candidate an opportunity to stand out among the other candidates, so the jobseekers should be more active now. The most important thing is to use this means of self-presentation wisely. How to do it you already know. You can find additional information about cover letter building on our resume service. We wish you be reasonable responding the vacancy and sending you cover letter with the resume, and we hope this post about how to write a cover letter was really useful for you.