Difference between CV and Resume: Key Points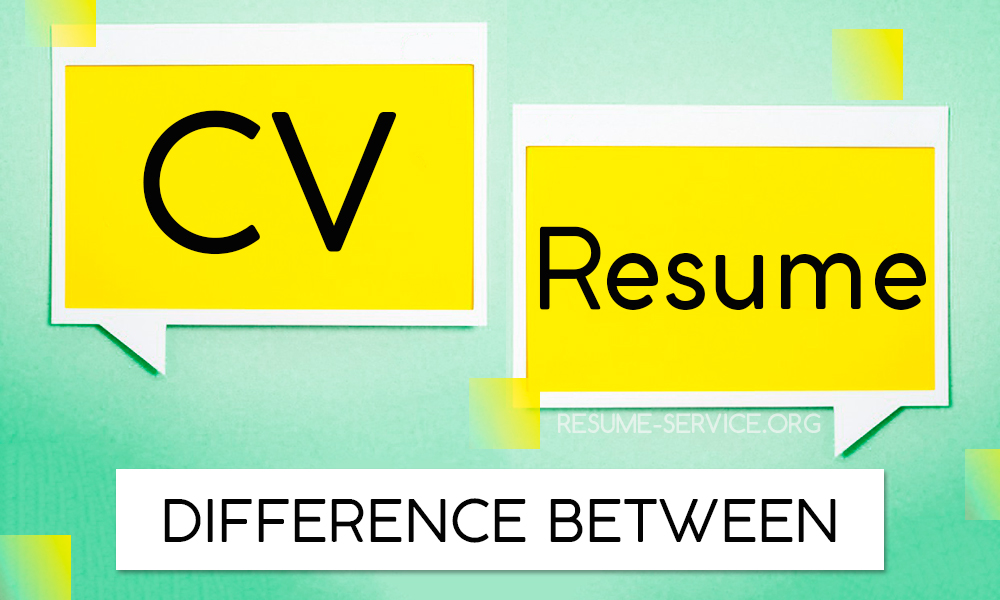 There are times when job seekers are expected to send a CV, but instead they might occasionally submit a resume. This is because most of us do not know the difference between these tools of job application. Many people would be surprised to learn that there is a difference between a resume and CV, because sometimes these terms are used interchangeably. Nevertheless, in some of the districts of Canada, for example, there are a few substantial differences between an ordinary resume and a CV. The major part of job applicants are expected to submit a two page resume for most job positions, because this is what the majority of employers wants to get. At the same time, if you want to apply for a position of a lawyer, scientist or medical worker, it is more likely that the employer will request a CV. This happens because a CV is generally much longer than an ordinary resume. Unlike the latter, it should be an impressive piece of writing that would include the details regarding your experience and qualification.
Let us further analyze what should be included in a CV and should be excluded from a resume. It is a fact that both of these forms should contain a summarizing statement by means of which you will capture the attention of the readers. This statement should be no longer than 100 words. After that, you need to include a history of your employment also known as work experience. This is then followed by your personal skills and abilities, while the final section would contain the list of honors and awards that you might have obtained over some period of time. These are the similarities between a CV and a resume. But what makes them different?
In fact, for Curriculum Vitae, the above kind of content is just a starting point of the writing process. A regular CV contains much more than that and has a number of sections that can be included according to the characteristics of the company to which you address the document. Here is a list of several sections that you might want to add to your Curriculum Vitae. These sections are usually absent in an ordinary resume.
Any kind of certifications or licenses that you might have obtained in the course of your professional career.
A list of the course work that might be relevant to your future career or your educational goal
Educational experience including research that you might have conducted or grants that you received.
A brief presentation of your dissertation (in case you have already obtained a high educational degree).
Books, academic papers or some other printed publications that you might have written in the course of your education.
Either professional or academic presentations created in the past.
Cultural or travel experience as well as other associated extracurricular activities.
A detailed list of references.
Additional data to provide evidence that you have relevant qualifications.
All the above information is usually not included in a resume. This is the key difference between a CV and a resume. Keep in mind that a CV is generally a more detailed description of your skills and abilities. Although you might not want to bury your potential employer in an abundance of information about your qualifications and competence, a CV usually occupies no less than 5 or 10 pages. If you have special qualifications, for instance, in case you are a senior medical practitioner, your CV might reach twenty pages in length. A Curriculum Vitae is a more extensive analysis of your publications and awards, so it should include many of your engagements in professional sphere. Besides, in the course of time, the previously mentioned achievements might be added with new ones.
Unlike a resume, the major goal of a CV is to show the employer that your achievements are immense, while your history of employment and references are extremely far-reaching. This would prove that you are the best candidate for the job position you are applying for. You should also make sure that you read all the instructions given by the employers in their advertisements. Speaking of a CV, some employers tend to be extremely specific about what you need to include in the job application document. You need to follow the instructions to the letter to reach an acceptable level and get closer to the job of your dreams. Although in case of a resume, you also need to follow the instructions prescribed by the employer, the primary difference between these documents is length, so if you are writing a CV, you need to make it much longer and include all of your accomplishments describing them in detail.
Besides, the instances when these two application forms are used may also vary from country to country. You should therefore be careful and read the job advertisement with much caution. Sometimes, however, it does not matter whether you submit a resume or a CV. In case it is not specified in the advertisement which application form you need to submit, you can send either of them interchangeably. Nevertheless, in most cases a CV includes more information including a detailed description of your educational background, which might include your experience as a teacher, academic degrees, published research, presentations, awards and some other accomplishments. In this regard, there is one more difference between a resume and CV, which lies in the fact that a Curriculum Vitae typically includes a one-or-two-page summary as a way to quickly convey your qualifications and the level of professionalism to the readers. If you are applying to a large company, they might ask you to send a CV summary so as not to be buried in an enormous pool of job applications. Unlike a CV, a resume represents a concise presentation of your level of education and employment history including a list of your key skills and abilities.
In such a way, we can see that a CV in most cases greatly differs from a resume, so you need to know exactly what your employer expects from you in order to achieve success in the job search. This will guarantee that you reach your goal and get a desired job position.
Did you like the post? You can order resume on resume-service.org. You are welcome to use professional resume writing help to succeed in the job-seeking process.