Wow-Interview: How To Charm Any Recruiter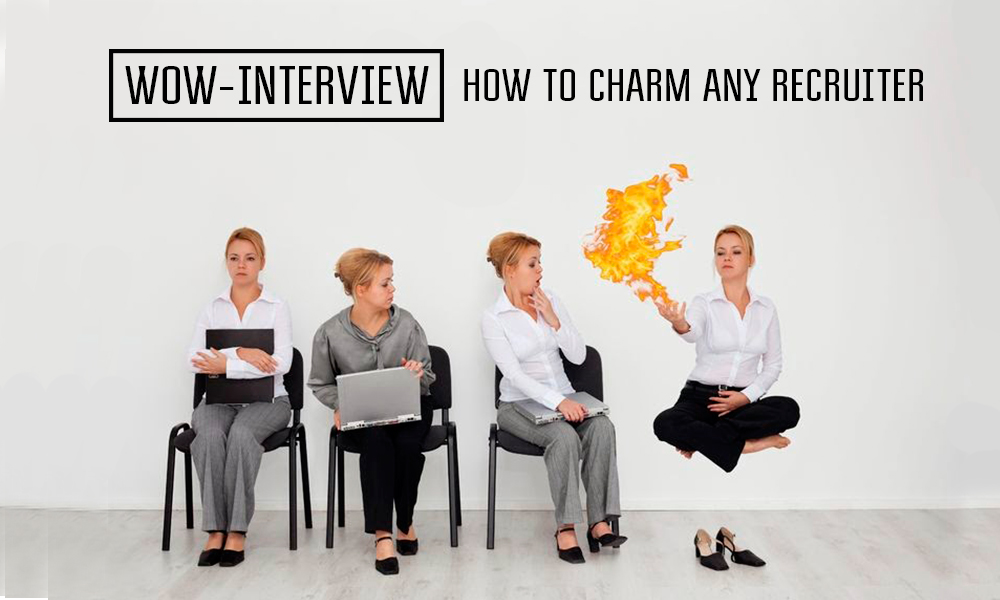 The secrets of successful interview for people of creative professions
Unpredictability is one of the major character features for creative person. If you are looking for a job in this direction, use creativity to the maximum. Prepare presentation for your interview, which your future employer definitely does not expect from you. Our best resume writer service will tell you how to come up and bring this idea to life to win the attention of the interviewer without giving any chance to other competitors.
1. Show your talent
Depending on what position you are applying for, the options of presentation may vary.
If you are a designer, make presentation in the form of slideshow demonstrating in it the maximum of your talent. Bright pictures, complex elements, stylish design is just what you need.
If you want to become writer of articles in large edition or a copywriter of an internet portal, write a selling text, in which you will present yourself and your services as a product. What kind of resume should you use in such "resume"? Well, you may use anything you like and what you consider necessary. Give examples of your works, use the infographic technique. It would be great if you also add healthy humor and you presentation will not be more than 10 slides size or 1,5 pages of printed text. Keep in mind that brevity is the soul of wit.
Hairdressers, stylists, models can brag their portfolio with the photos of their works, put inside letters and diplomas (of course, if they have them).
There is a separate case for photographers – take with you your camera to the interview and with recruiter's permission take a few shots, having promised that you will send him processed photos (of course, Fulfill the promise as soon as possible).
In short, show your imagination and you are guaranteed to attract attention of an HR manager and be remembered for his brilliance and brightness.
2. Come up with not boring answers
Surely, if you take a grand piano, a trained dog, a rabbit in a hat or a hand-woven rug with you to the interview, still it will not be enough. HR manager will definitely make his own questions and ask you to answer them, because he has prepared for the conversation as well. Make each your answer an interesting story. Do not reply briefly and dryly.
If you are a good teller, you can tell a gripping story of your professional development, use your orator talent. Make a recruiter follow you, show him that you are really a professional in your field, let him feel how much well you understand your sphere.
Let's compare two replies for one and the same question about the reason for quitting the previous workplace, to understand in what direction you need to move.
Why did you leave your previous job?
Option #1: "Employer did not appreciate me, I was not paid enough, they used my experience and skills only for their own benefit".
Option #2. "Frankly speaking, I was not going to quit. But once my boss said that my design of landing for a big company was boring and dull. I accepted the challenge. I added more colours, changed the structure. But the boss refused my new variant as well. Then I moved forward. I added pink ponies, rainbows and even put the Manneken Pis fountain in the center of the page. And he did not understand me again. My creative soul could not stand such a terrible lack of taste, so I had to quit. By the way, the reason for misunderstanding was a site of a company providing funeral services".
This is fresh, funny, and certainly unexpected response. Having gained the recruiter's sympathy, you may discuss any subject, having forgotten about the worries and fear.
3. Be yourself
If you can do something well, it does not matter how you look or what suggestions you make. A good programmer not necessarily should know how to write poems or wear a strict costume, as well as a bassist does not need a tie or knowledge of Criminal Code. Be what you really are in your ordinary life, at your work. Do not change your style for a few hours of communication with your future employer.
Give honest answers to the HR manager; do not try to hide something. If you do not like some of the questions, let the manager know about it. Do not be afraid to disappoint your future boss. He should like not only you as a person, but also your work and perspective, which a company will get if hire you.
Rely on your personal skills and experience. Demonstrate your individuality. Do not forget that a person, who knows his own worth, no one will haggle with. Our resume writing service wishes you to find such a job that will allow your talents to be presented completely and you will get decent salary.
Interview with a recruiter in the form of confidential conversation: what is the danger?
Confidential conversation is a method of interview holding, with the help of which a recruiter literally scans a jobseeker.
Have you ever passed an interview that was held in the form of confidential conversation? Such a kind of interview is much more pleasant comparing with a stress interview, is not it? Likely, you passed a behavioral interview, and behind the pleasant conversation there was hidden a detailed analysis of you as a candidate.
Why recruiter like to hold behavioral interview
Behavioral interview or competency interview is popular since 70-ies of the last century. Competent recruiters especially like it, because this method allows to analyze a candidate thoroughly according to the competences and behaviour. During such an interview recruiter may figure out:
whether a candidate has necessary skills and competencies required by the position;
the way the candidate behaved in certain situations at work or in life in past. And since human behavior changes very slowly and is hard to be corrected, so the same behaviour can be expected in future.
The most common questions of behavioral interview
Competency interview questions are usually open and focused on the fact that the candidates give specific examples of behavior in different situations. Very often these are suchlike questions: "What did you do, when…?" or "What would you do, if…?" and in the response recruiter may look for certain small details of the situation.
So here are the most common questions of the behavioral interview:
1) Tell about your life goals. Where do you see yourself in five years?
2) Tell how you spend your ordinary working day? What about all hands' job day?
3) When did you use your personal skills to reach the goal?
4) Tell about your companies at school, university. Who was the unofficial leader of these companies? Have you ever had a desire to take the leader's position?
5) What are your main achievements at your previous work?
6) What was the most complex task you faced lately?
7) Tell about the case when you have found non-standard solution of a problem.
8) Did you have an opportunity to motivate other people? How did you do it?
9) What can put you out of temper? Give an example of the last stress situation at your work.
10) Can you give an example when you convinced other people to your point of view?
11) Can you give an example when you sought to get feedback on any of your actions?
12) Tell how you have overestimated or underestimated something.
13) Can you give an example of the situation when you had to cope with several tasks at the same time?
14) When were you especially satisfied with your work?
15) Tell about the case when you had to risk?
16) What is unacceptable for at work in your relationships with the colleagues, employer?
17) Whom you would not want to work with and why?
18) How do you prioritize your work?
19) Tell about the most successful / unsuccessful experience of presentation / public speaking.
20) What was the most difficult situation in your studying / at work and what were the results?
21) What is your hobby? Why do you have such a hobby?
22) What have you read lately? Why did you choose this literature?
How to get prepared for behavioral interview
When you go to the interview, you never know in what way an interviewer will talk to you and how he will evaluate you. That is why you should prepare for each interview and know general rules of successful interview passing. And at the behavioral interview the following tips will help you to feel more comfortable and confident:
knowledge of the fact that such kind of interview exist, and during even the most confidential conversation, you are being analyzed;
attentive attitude to the vacancy text about work. Be ready that, for example, "initiative" and "teamwork" are not empty senseless words, but desired qualities of a future employee, which can be tested by indirect questions;
preforms of the stories and examples about everything you have written in your resume or mentioned during your previous interview. We want to remind you that our service provides resume editing help; our professional writer will create a winning resume for you.
Not all companies use behavioral interview, however it is better to be ready to any turn of events and always have an example that characterizes you as conscientious, initiative and responsible employee. Our resume writing website advises to remember about such a type of interview, because anyway employers use it to evaluate long time working staff.